Rediscovering Classic Beauty: The 1955 Chevrolet Bel Air Restomod
If you're a car enthusiast, you know that some vehicles have the power to transport you back in time while delivering a modern driving experience that's nothing short of exhilarating. The 1955 Chevrolet Bel Air Restomod is one such gem—a classic beauty that seamlessly combines the nostalgia of the '50s with the performance of today.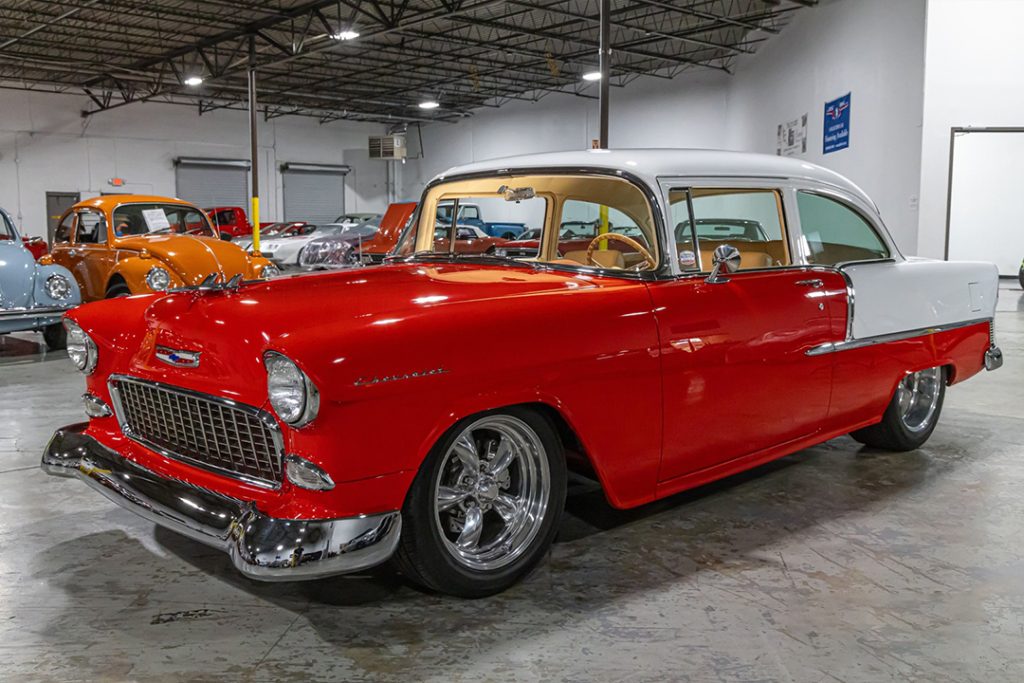 Unleashing the Beast: 383 V8 Stroker Power
Under the hood of this iconic Bel Air rests a beastly 383 V8 stroker motor with Fast EFI, boasting a jaw-dropping 475 horsepower. This powerhouse is paired with a smooth-shifting 700R4 automatic transmission, delivering seamless acceleration and effortless cruising. Prepare for an unforgettable driving experience every time you hit the road.
Timeless Beauty: Red and White Elegance
Dressed in a striking Red and White paint scheme, the exterior of the Bel Air captures the essence of classic Americana. It's a visual masterpiece that turns heads wherever it goes. But the beauty isn't just skin deep.
Craftsmanship in Every Stitch: Custom Tan Leather Interior
Step inside, and you'll be greeted by a meticulously crafted Custom Tan Leather interior that exudes luxury and sophistication. Every stitch is a testament to the attention to detail, making this cabin a true work of art. It's not just a car; it's a statement of style.
Comfort Meets Precision: Modern Features
No matter the weather, you can enjoy a comfortable ride thanks to the Ice Cold Vintage Air Conditioning system. Cruise with ease and precision, thanks to the Power Rack and Pinion Steering, which offers effortless maneuverability. The Remote Door Openers and Door Locks add a touch of convenience, allowing you to access your Bel Air with ease.
Safety First: 4-Wheel Disc Brakes and More
Safety is paramount in any vehicle. That's why this Bel Air is equipped with 4-Wheel Disc Brakes, ensuring reliable stopping power in any situation. Stay entertained on your journeys with the Custom Stereo System, filling the cabin with your favorite tunes. Maneuvering in tight spaces is a breeze with the Back-Up Camera, providing a clear view of your surroundings.
A Smooth Ride: 4-Link with Air Ride Suspension
The 4-Link with Air Ride suspension gives this Bel Air an incredibly smooth and responsive ride, ensuring you'll feel connected to the road. The 9-inch Ford Rear End with Posi-Traction delivers exceptional traction and stability, further enhancing the driving dynamics.
In conclusion, the 1955 Chevrolet Bel Air Restomod is a remarkable blend of classic aesthetics and modern performance. It's not just a car; it's a time machine that allows you to step into the past while enjoying the comforts and power of today's technology. If you're a true car enthusiast, this Bel Air should be on your must-drive list.